Create broadcast-quality QuickTime subtitled videos

Our new QuickTime subtitle encoder lets you burn beautiful subtitles to any file-based media and output the result in QuickTime format. It supports H.264 and MPEG-4 encoding at custom frame rates and sizes up to full HD, as well as stereo and mono audio formats including all QuickTime supported variations of PCM, Apple Lossless, and QDesign2. Download a trial version and see for yourself what QTE can do. Find out more.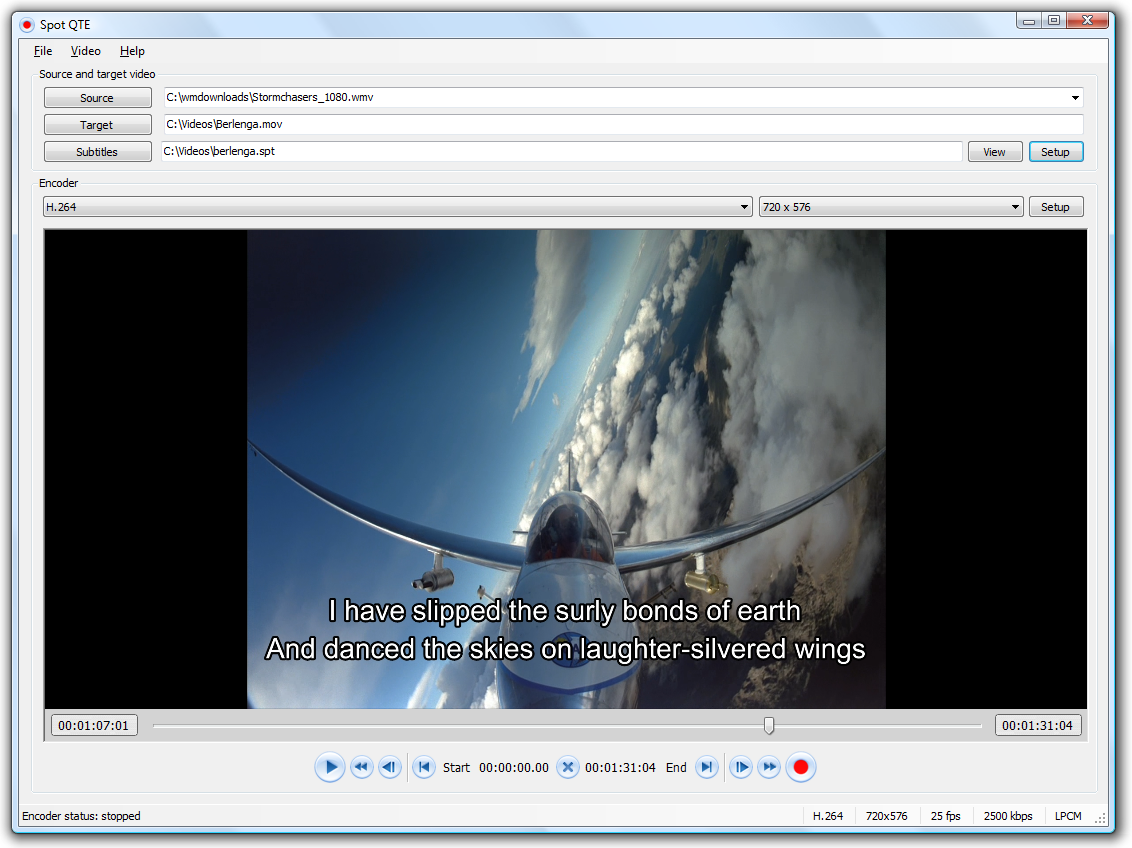 Our bestselling subtitle editor based on years of professional experience

Spot 5 combines ease of use with a wealth of advanced tools and features to help you prepare and subtitle your work as quickly and as accurately as possible. No other system on the market in this price range offers as much as Spot 5.
Create subtitled movies for client approval or online content

Organise your work with more powerful profiles and project settings

QC files in less than a second

Save time with one-click word search and instant error checking

Spot, edit and reformat files faster than ever

Generate broadcast-quality bitmap subtitles for Blu-ray and other SD/ HD formats
Spot 5.1 Adopts "Novo Acordo Ortográfico" Spell Check Rules
Love it or hate it, the Novo Acordo Ortográfico is here to stay. With this in mind, Spot Software has teamed up with Priberam Informática, S.A. to include their FLiP 8 spell checker in Spot 5.1. Our Portuguese users can now spell check subtitle files according to the new rules without the need for Microsoft Office to be installed on their system.
Spot Awarded First Screen Subtitling PAC Licence
Spot Software is pleased to announce it has reached a formal agreement with Screen Subtitling Systems licensing it to create and issue compliant PAC files, making Spot 5.1 the first subtitle preparation system on the market to undergo PAC testing and compliance certification by Screen.
Originated by Screen Subtitling, PAC is one of the most commonly recognised subtitle file formats for professional, high-end use.
Receiving the PAC licence from Screen has been a positive step in the on-going development of our Spot Subtitling System and has worked in perfectly with the launch of version 5.1.
Read the full press release here.
Follow Spot on...

Click the button below to purchase or upgrade to Spot 5 now. If you're upgrading from Spot 4, there's no need to change your dongle: we can have you up and running in three minutes. Not sure whether to upgrade? Discover why you should.



---
Who We Are And What We Do
Spot Software BV, based in Amsterdam, Holland, has been developing subtitling software since 1997. Because we're subtitlers ourselves, we know which tools you need to get the job done as quickly and as accurately as possible. Our popular subtitle editor Spot, one of the first affordable subtitling systems on the market, builds on this experience. Thanks to its wide range of advanced features, user-friendly interface and accessible price tag, Spot has become the tool of choice for professional subtitlers and post-production houses throughout Europe.
Find Out More
But don't just take our word for it. You can download a fully-functional trial version of Spot if you like or take a detailed look at what Spot has to offer. If you want to know what our users think of our software, you can subscribe to our mailing list and ask them yourself. To find out how much the system costs and what purchase options are available to you, follow this link.